FortressAS Home - Improve and Maintain
Through the FortressAS Home Assessment, or by other means, you may find that your employees' home working environments and technology do not meet regulation or your own corporate standards.
This is a risk to you and your employees. According to the "Homeworker Wellbeing Survey", carried out by the Institute for Employment Studies in April 2020, after just 2 weeks of lockdown the following increased Physical Health problems were reported:
58% of respondents had aches/pains in neck
56% had aches/pains in shoulder
55% had aches/pains in back
55% had headaches/migraines
37% had leg cramps
33% had chest pains
60% had fatigue
60% were not active & vigorous
Based on the evidence that inadequate home- working conditions can cause employees harm, it is clear that the risk of significant liabilities, deteriorating employee morale and bad publicity are building.
The FortressAS Home Improve and Maintain service works with you to reduce this risk, fill the gaps and ensure that all employees have the technology and environment that meets regulations and expected standards.
We then maintain and support the technology, including 24 replacement and access to our offices for team meetings or training.
The end result is that you and your employees can take the benefits of home working while reducing the associated risks.
Ready to find out more?
Alternatively call 020 3858 0099 or email [email protected].
To learn more, download our brochure now.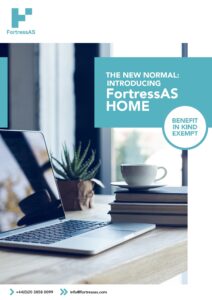 Ready to find out more?
Book a call below, or call 020 3858 0099 or email [email protected].
Book A Call
---
The FortressAS Home Service